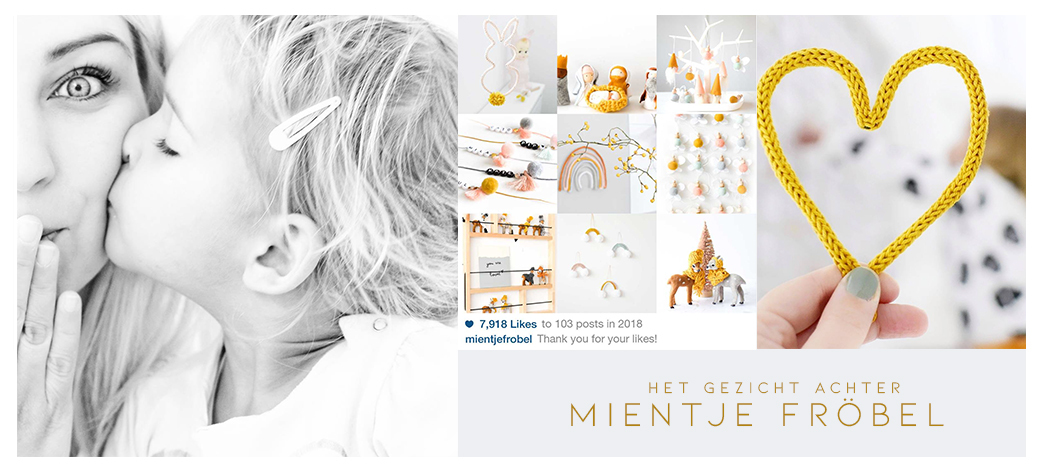 Hi! It's great that you're visiting the site and want to get to know Mientje Frobel better!
Always making and changing things. Thinking and making things and preferably all by myself. Always full of ideas to make and do new things.
Everything in the online shop is handmade and/or designed by myself. Just like the layout and all the other design. By whom? By me!
Me, 30+, mother of 2 and wife of 1. Born and raised on the coast of Zeeland and still living in Zeeland. In addition to the shop I also work in a creative part-time position at a regional company. With children's rooms to decorate and children's birthdays to let go of creative excesses there are plenty of possibilities, many things came into being because they were first made privately. The nice reactions became nice orders and therefore in October 2015 it was decided to make ordering easier and chase dreams. My father used to call me "Mientje Frobel" joking all the time and that's how the name for the webshop was a crowded fact.
In the shop you can only find (own) handmade products or your own design. All products can be packed for you if you wish! The photo's and messages that are posted and emailed after delivery are a great motivation and makes me work 100% with passion and love on the products and the shop.
Do you have any questions, would you like more information? Send an e-mail to: info@mientjefrobel.nl
Direct contact: app me at Whatsapp and I'll try to answer your question as soon as possible: 06 38 71 76 90
You can also send a message on Instagram 
Are you following Mientje Frobel's account yet? Take a look at Instagram for the latest products, facts and fun giveaways! Tag your photos with @mientjefrobel or use the hastag #mientjefrobel. See you at IG!